Dr Samriti Sood
BSc (Med) MBBS (Hons) MS FRACS GradCertSurg (Breast Surgery)
Breast and General Surgery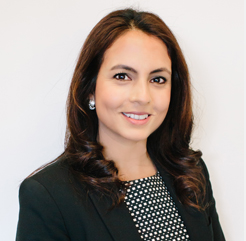 Dr Samriti Sood
Samriti is a Specialist Breast and General Surgeon who offers expertise in the management of women with all breast related conditions. She is a trained general surgeon who sub-specialises in breast surgical oncology, utilising oncoplastic techniques and offering women reconstructive surgery as they make important choices regarding their overall body image and subsequent quality of life during and after cancer treatment.
She also offers treatment for a variety of general surgical conditions including abdominal and inguinoscrotal herniae, skin and subcutaneous lesions, and acute general surgery.
Samriti graduated with honours in medicine from The University of New South Wales. She is a Fellow of the Royal Australasian College of Surgeons, a member of General Surgeons Australia and the BreastSurgANZ Society. After completing general surgical training across major tertiary and regional NSW/ACT hospitals, she completed a Masters of Surgery and a Graduate Certificate in Surgery (Breast Surgery) from The University of Sydney. She then spent two years gaining extensive post-fellowship training and experience in breast oncoplastic and reconstructive surgery across Northern Sydney Area Health Network hospitals and Westmead hospital.
Samriti is an experienced surgeon and dedicated teacher who is involved in regular teaching activities for medical students and postgraduate students. She has published in peer-reviewed journals and presented in international & national scientific meetings. She continues to engage in regular research activities and is actively involved in clinical trials for breast cancer management.
Samriti regularly operates at Mater Hospital, Royal North Shore Hospital, Hornsby Hospital and the Northern Beaches Hospital. She also has an appointment at North Shore Private Hospital
Red Breast Syndrome: Following implant based breast reconstruction
Research Assistant: Dr Omar Noori (Surgical SRMO)
Surgical outcomes following postmastectomy radiotherapy in implant based reconstruction
Research Assistant: Dr Omar Noori (Surgical SRMO)
Stage of research: Writing paper for publication, implant based reconstruction database (Poche Centre) complete Retrospective study on locoregional recurrence and functional outcomes following axillary treatment in early node positive breast cancer
Stage of Research: Data collection and database update
Outcomes of targeted axillary clearance in early node positive breast cancer following neoadjuvant chemotherapy
Stage of Research: Northern Sydney Local Health District Neoadjuvant chemotherapy registry development
Other Research and Publications:
Synchronous Operable Pancreatic and Breast Cancer without genetic mutation: A literature Review and Discussion
Published 24 June 2022
DOI: 10.3389/fsurg.2022.858349
Breast Radiotherapy after Oncoplastic Surgery—A Multidisciplinary Approach
Published online 25 March 2022
DOI: 10.3390/cancers14071685

Double Trouble:

A rare case of small bowel intussusception secondary to Neuroendocrine Tumour within a Meckel's Diverticulum
Case Report
SN Comprehensive Clinical Medicine
Manuscript Number SNCM-D-20-00972R1
Maw et al. 2020 "Case Report of 18F-FDG PET/CT Features of Polyacrylamide Hydrogel Mammoplasty."
Clinical Nuclear Medicine In press: DOI: 10.1097/RLU.0000000000003403 PMID:33208622
2020
Postmastectomy radiotherapy and immediate implant-based breast reconstruction: Attitudes and practices of Australian and New Zealand breast surgeons.
Journal Article
ANZ Journal of Surgery, Manuscript ANS-2019-00362
April 2019
Training Breast Surgeons: Perspective of a Post-fellowship Trainee.
Perspective Article
Accepted for publication 19 April 2016
ANZ Journal of Surgery, Manuscript ID: ANS-2016-00389
April 2016
Positive Sentinel Node Biopsy in Melanoma-Radiotherapy, Surgery or Observation (PosSiM Trial) - Pilot Study.
Application for Grant Approved from The Friends of The Mater Foundation, North Sydney. Pilot project protocol currently pending.


Supervisor:

Prof Andrew Spillane, Mater Hospital, North Sydney
April 2016
Nipple-sparing mastectomy with implant reconstruction The Westmead Experience.
ANZ Journal of Surgery, Vol 85 No 5 May 2015 363-68
First Published online 24 April 2014, DOI: 10.1111/ans- 12641